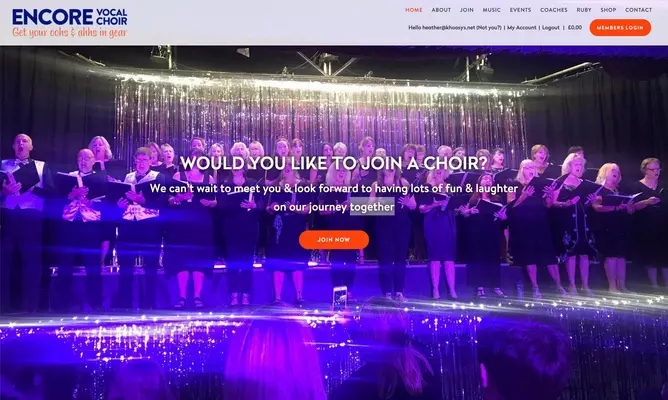 West Sussex's Encore Vocal Choir Launch Brochure & eCommerce Website
When West Sussex's Encore Vocal Choir approached us for a website I was very excited, not least because I am a member of their Pulborough choir. The owners of the business, Liz Ball and Kerri Chipper, are fantastic at teaching a bunch of novices to sing, but even they admitted that creating a website was not their gift. However, they were very clear what they wanted from a website, and how they wanted it to look, and wanted us to work with them to achieve the right look and feel to their site.
What did Encore Vocal Choir need?
Branding for their website - including brand colours, logo, and font.
A searchable directory of choirs with attributes.
A members only area where music and lyrics could be downloaded, and information about the choir could be seen.
A Coaches only area where their information can be accessed.
A shop from which electronic downloads and products can be purchased.
A testimonial video creating from videos sent in by choir members.
Pages that showcased the choirs in action via video.
Different contact forms for general contact, joining a choir, and becoming a coach.
Copy writing from notes given.
The ability to be able to edit the site themselves.
What did KhooSeller do?
As the site was created during lockdown it was a challenging project. However, we were able to work with Encore Vocal Choir to:
Created the brand that they wanted.
This was based on the navy blue of their choice, and incorporated strong colours that were gender neutral. This was important as Encore Vocal Choirs have both male and female members of all ages. Therefore the site needed to be visually appealing to everyone. We also chose the font, and provided a simple brand document for Encore to use in other media.
Created a directory of choirs that worked with Google maps, could be added to simply, was searchable, and had attributes.
It was essential that this could be maintained by Encore Vocal Choir themselves, and fortunately this feature is very simple to update.
Provided access controlled areas for members and coaches.
This was an essential part of the build where members can login and download their lyrics, their track to learn, view the YouTube video, and see general information on upcoming shows. Eventually there will be a subscription facility added to this area.
Created content, imagery, and videos that reflect the friendly, warm, and enjoyable nature of the choirs.
We were able to edit videos that had been sent from members' phones to create a testimonial video and make use of YouTube video, and our own video to create content.
Added in eCommerce functionality so that both electronic and physical singles and albums could be either ordered for delivery or be downloaded.
This was put in quickly, and threw up some interesting challenges. The process is now seamless and has given Encore the potential to add in other items e.g. t-shirts when they wish to.
What was Encore Vocal Choir's Response?
Liz and Kerri were very pleased with the site and how it has helped to increase their market reach. Despite lockdown new members are joining as a result of the website, and the site is going from strength to strength. To view Encore Vocal Choir's website click here.